From seemingly vintage environ lies a vivid fashion landscape, the new ILANA BOUTIQUE STORE.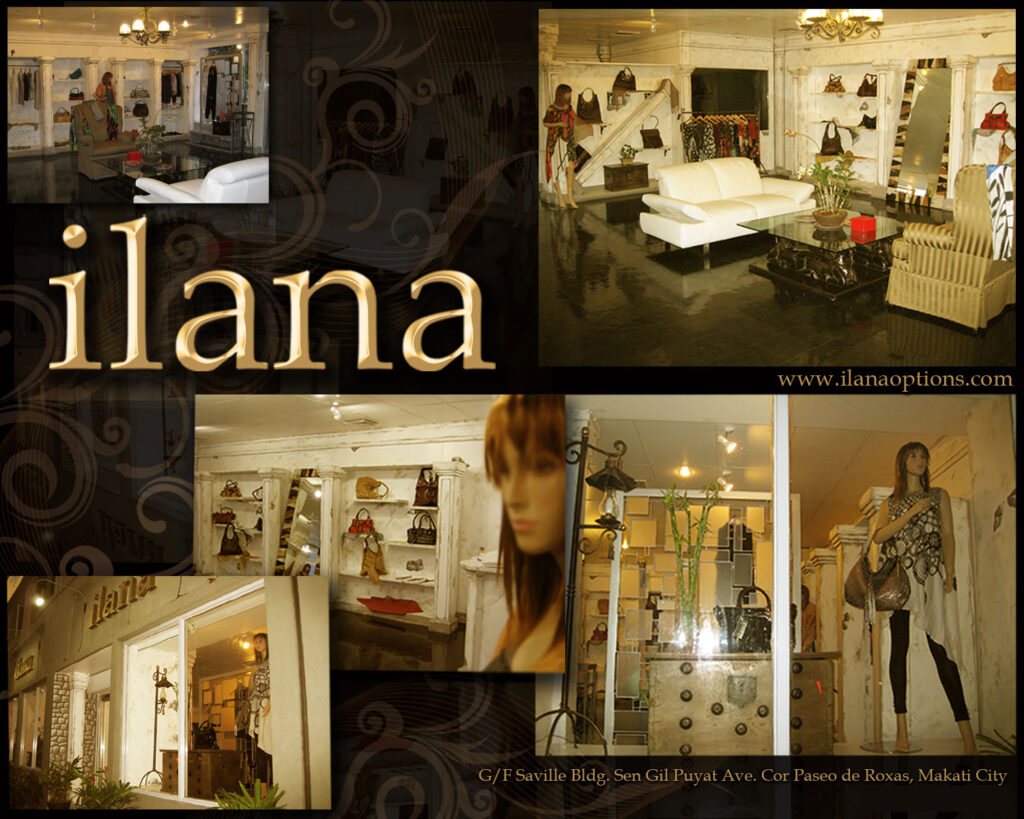 Away from the usual store concept inside malls, ILANA stands along one of the busy avenues of Makati City. It's a stunner at a distance at par with near sight. Façade wise, it's vintage but whipped with life of green plants and fashion visual.
The boutique inside is more of a home than a store. The interior is simply superb, comfortable and refreshing. Designs of pillars made of woodcraft and artist intellect are well matched. Interior plants seem to give a livelier atmosphere. Antique furniture dwell in harmony to perfectly show what is meant by simple but elegant. It gives the feeling of a shopping yet still relaxing experience. Items are not lumped but strategically and artistically placed. Service also comes with personal touch, from the staff to the officers up to the designer-owner herself, they explain and assist clients with no hesitance.
Invading the details of their products reveals the pure leather Borella and Fancy bags from Europe. The Borella at first glance already tells its worth. The style, the material and the craftsmanship are something that would always remind customers that these are the kind of items that can last for several decades and can even be passed on to their heirs. Bottom line is their fashion is sort of never fading glory, one that cannot be categorized as obsolete in spite of time change.
Comes Fancy bags by Jenny. This striking collection matched with charm of famous German actress-model Jenny Winkler is another strong suit of Ilana boutique. Designs in live and neutral colours obviously made of leather really knock in a different appeal. Approach is more of feminine, trendy and younger crowd.
Oozing in confidence and uniqueness is their very own ILANA brand. Lines come in clothing, accessories and canvass bags. Clothing varies in designs. Sizes are free and buxom-measured. What cannot be forgotten are really the styles. Top black and white collection strikes on one side while as-of-the-moment fruit colors collection magnetize on the other. The eyes surely wouldn't miss the designer Ilana skirts, quite different from all others flaunt on neutral and Hot beverage colors.
Aside from these lines, more items are yet to come. In the coming months, there will be more lines like jeans, shoes and the likes. Noticeably, there are also other brands sourced globally that can be seen in Ilana boutique. And just as speaking of fairness in the truest sense of the word, all is relatively at premium quality.